Refillable Products for a Sustainable Future
By offering refillable cosmetic products, Chifure Corporation takes environmental issues into consideration while making cosmetic products that support women's beauty and lifestyle.
The first company to introduce refillable skin care products in Japan
The original reason for this choice was the escalation in prices of products and the shortage of resources that resulted from skyrocketing oil prices. While many cosmetic companies decided to raise the price of their products, Chifure Corporation declared that the price of the products would stay the same. Not only considering how we could save limited resources, but also rigorously seeking what we could do to maintain prices, on 25th of June 1974, we released the first refillable cosmetic product in Japan.
Successful conservation of resources through the introduction of pouch packages
In 1997, 23 years after the birth of "Refill Cosmetics," the packaging style of our refill product containers were upgraded from tube style containers to pouch style bags. This improvement made significant contributions to the lowering volume of resin used.
Refillable make-up products
In addition to skin care products, our make-up products are also refillable. Chifure brand "Lipstick (Refill)" can be refilled using the original container, which is designed for repeated use.
Great achievements for the reduction of our environmental footprint
With Chifure's refillable cosmetic products continuously improving over the years, we have now significantly reduced the volume of resin used by 280 tons per year, which is equal to the volume that makes 7.5 million bottles of our moisturizing lotion per year. It also contributes to the reduction of CO2 emissions by approx. 400 tons* annually.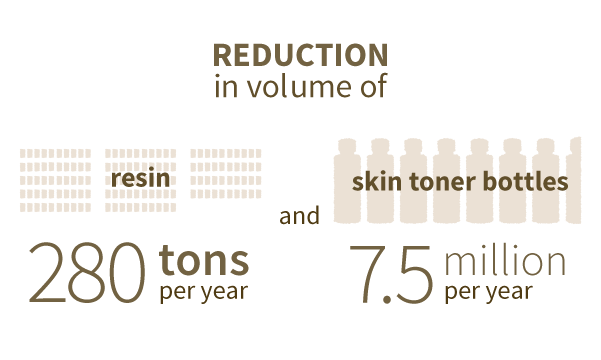 *280 tons: Volume of annual resin reduction for 43 Chifure brand refill products in FY2013.
*7.5 million bottles: Converted by the annually reduced resin volume into the bottle weight (37.14g) of "Chifure Skin Lotion Deep Moisture".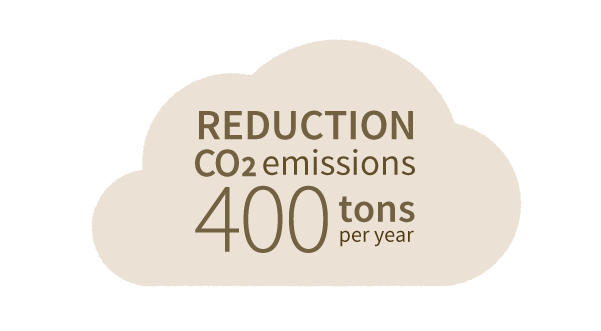 *400 tons: Conversion of the saved resin volume by Chifure brand refill products during April 2013 - March 2014 into the reduced volume of CO2. (Study by Chifure Corporation)